Mr John Cranfield of Jamestown was this afternoon officially sworn in as Deputy Speaker of the House of Legislative Council.
Mr Cranfield took the Oaths of Office for his new role in the presence of HE Governor Lisa Phillips at the Castle.
John commented: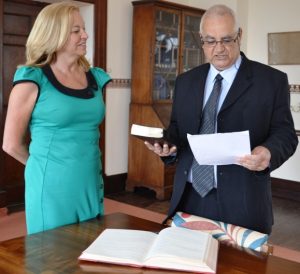 "I was overwhelmed by the support from Councillors and I endeavour to carry out my duties as best as I can."
Governor Lisa Phillips added:
"I would like to extend congratulations to John for being elected as Deputy Speaker of Legislative Council and I look forward to working with him.
"I would also like to thank previous Deputy Speaker Mrs Cathy Hopkins MBE for her dedicated service and commitment during her time as Deputy Speaker." 
SHG
20 September 2016