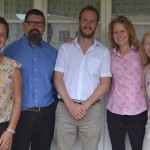 The Mental Health Section consisting of members from both the Health & Safeguarding Directorate is expanding its team, which in the past has consisted of one Community Psychiatric Nurse who managed the entire service.
Now on-Island (pictured), there are three experienced Community Psychiatric Nurses – a Child & Adolescent Mental Health Specialist and a Mental Health Social Worker, plus a Visiting Psychiatrist who provides the team with clinical consultation.
Natalie Waghorn, Mental Health Team Lead, said:
"We work with people with a range of mental health problems – from supporting people with their emotional well-being, depression, bi-polar disorder, anxiety – to those who experience psychoses, hearing voices, or substance misuse.
"We will all know someone who is or has experienced problems over the course of their life with their mental health or emotional well-being. We're here to support those people through some of these difficulties.  But we are very much an 'opt-in' service unless the risk to self or others is very high – in which case we work closely with community services and the Hospital.
"The Mental Health Team has also been part of the sexual health awareness initiative on St Helena – looking at emotional well-being in the context of relationships."
A wide range of services are offered on-Island, ranging from alcohol detox, talking therapy, ADHD clinics, depot injections, input to schools and provision for prisoners to have better access to mental and physical healthcare.
The Mental Health Team will also soon be rolling out specialist training in mental health awareness and will be implementing the Mental Health & Capacity Ordinance later this year for allied healthcare professionals.
May is Mental Health Awareness Month and the team are working on health promotion to highlight awareness across the Island – from speaking to schools to the Community Care Complex residents, plus hosting a stall at the Canister.
If you want to find out more about the Mental Health Team, please contact St John's Villa on tel: 22593.
SHG
8 April 2016