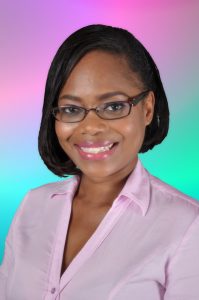 A new Clinical Psychologist for the Health Directorate, Esther John (photo attached), arrived on St Helena on Tuesday, 11 October 2016. Esther is here on a two year contract and joins the Community Mental Health Team to provide interventions for any psychological needs which may arise.
In her role, Esther will provide counselling and therapy to those who have challenges functioning optimally because of psychological stressors. These stressors can be in the form of depression, anxiety, post-traumatic stress disorder (PTSD) or any other type of mental issue. To identify this, Esther will also be providing assessment for both adults and children. While here, Esther also aims to develop a culturally friendly mental health pathway to fit the Island's needs.
Esther said:
"As with any community, a mutual trust will need to be gained between myself and residents on St Helena. So far it has been lovely meeting people in the community, and work wise, this type of relationship is essential to accurately and culturally guide my service to the community. It will also help to tap into or create resources that will support community care."
 Esther has  previously worked as a Psychiatric Social Worker and Police Social Work Practitioner, as well as working in a child and adolescent clinic, and lecturing in Cognitive Psychology at a University in Trinidad & Tobago.
Preceding her current role here, Esther worked as a Clinical Psychologist for the para military organization in Trinidad & Tobago which provided her with a wide experience base of working with military officers, families, adults and children.
SHG                                                                                                                                 
25 October 2016