At Rupert's Bay on Friday, 17 July 2015, HE The Governor and Mrs Capes participated in a special ceremony during  which  the two new sea rescue boats were officially named and launched.
Addressing the boat crews and a small group of people congregated at the Shears to witness the launch, the Governor commented on marking another significant moment in the 'massive, challenging and exciting project to give St Helena air access.'
Governor Capes said:
"Today we see another key piece of the airport project jigsaw move into place, with the advent of a vastly improved 24/7 sea rescue capability, made possible by these two new boats and their crews. 
"Equipped with the very latest safety, rescue and communication equipment, and with an operating range of up to 40 miles, the boats were carefully selected to provide rapid and efficient coverage.
"Six full time crew and eight auxiliaries are now benefitting from intensive training provided by a senior professional from the South African National Sea Rescue Institute.
"I'm sure that everyone on the Island will want to join me in thanking the sea rescue boat crews for their service to St Helena and also in wishing them safe and successful operations with the boats in the years ahead."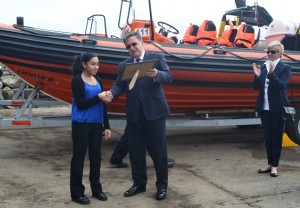 Governor Capes then presented certificates to students Venus Williams and Trystan Thomas for naming the boats – 'Sea Lion' and 'Ocean Rider' – after which the boats and their crews were blessed by the Right Reverend Bishop Fenwick.
Mrs Capes traditionally marked the naming of the boats with the opening and pouring of champagne over the bows.
The boats were launched via the slipway and guests then observed the boats  making a sweep around Rupert's Bay.
The new boats will be based at Jamestown Wharf until the new Sea Rescue Facility in Rupert's is complete. The boats will then transfer to Rupert's along with the existing sea rescue boat.
SHG
20 July 2015