Members of the public may have noticed a series of red lights in the vicinity of the Airport.  These are Remote Obstacle Lights (ROLs) which Basil Read, in conjunction with sub-contractor Thales, has installed at King and Queen's Rock, Bencoolen, Horsepoint, Bradley's, Great Stone Top and The Barn.  There are 12 ROLs in total.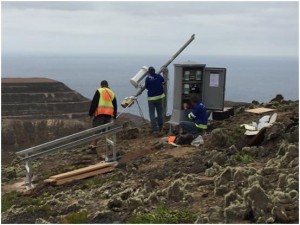 The ROLs are part of a suite of Navigational Aids (NAVAIDS) which are vital to the safe operations of the Airport. The ROLs are used to assist aircraft in landing and departing, particularly to identify areas of high ground.
Given the safety importance of the ROLs, the Airport Project Team would like to appeal to members of the public for their support.  In order to ensure the safe operation of the Airport, it is essential that the ROLs are not tampered with or vandalised.  Members of the public are therefore requested to adhere to the warning signs displayed on the ROLs.  An example of a warning sign is shown below:
WARNING
AIRPORT NAVAIDS
UNAUTHORISED ACCESS IS PROHIBITED.
PENALTY FOR UNAUTHORISED ACCESS, INTERFERENCE OR VANDALISM:
6 MONTHS IMPRISONMENT AND/OR MAXIMUM £2,000 FINE
BY ORDER OF ST HELENA GOVERNMENT
If you see anyone interfering with or vandalising a ROL, please report them to the Police. Likewise, if it looks like a ROL has been damaged, please inform the Basil Read Offices on tel. 24026 as soon as possible.
More information on the ROLs will follow in the next Airport Update.
SHG
15 July 2015