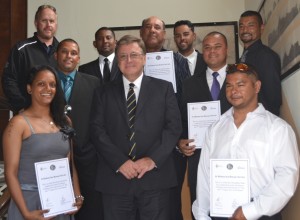 A ceremony was held yesterday (Thursday 13 August) to recognise and congratulate the Sea Rescue Crew for their efforts in their training programme and their commitment to offering a vital and much needed service to St Helena's community.
The ceremony – held in the Council Chamber – was attended by HE Governor Mark Capes, Lord Bishop Richard Fenwick, families of the Sea Rescue team and invited guests.
Chief of Police, Trevor Botting, welcomed all in attendance and said:
"The Airport development represents a period of change for St Helena but also a period of great opportunity for the Island and for the local community.  As part of this, the Sea Rescue Service needed to be enhanced to meet the needs of air access.
"I have the privilege of having the Sea Rescue team under my command, but was acutely aware of the challenges that
developing the service would bring – new boats, a new facility, training and of course the need to recruit a new crew.  I wanted to make the St Helena Sea Rescue Service something that the Island as a whole would be proud of."
Governor Capes congratulated the Sea Rescue team on their achievements during training and thanked Graeme Harding of the South African National Sea Rescue Institute (NSRI), for providing a first class, comprehensive training package.  The Governor expressed the hope that there would be an ongoing relationship between St Helena and the NSRI.  In closing, Trevor acknowledged the hard work of Sea Rescue Manager Simon Wade, and added:
"There was much to do in enhancing the sea rescue service on St Helena and you have met every challenge that has been put in front of you. I have been so impressed in what you have achieved in so short a time."
The team will eventually have its own dedicated facility in Rupert's Bay, but will immediately aim to provide a top class service from Jamestown – not only for the demands of air operations but to all those who work, play and visit the seas around St Helena.
SHG
14 August 2015