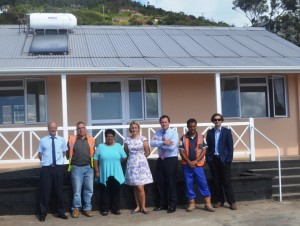 The refurbishment of Ebony View (Ex-Half Tree Hollow School), the new home for residents of the Challenging Behaviour Unit (CBU) at Sundale, is making good progress, with residents expected to move into their new home later this month.
The refurbished premises offer a much more open and bright environment for residents and units are fully equipped with the necessities for residents to be able to live positive and more independent lives.
Ahead of an official opening, local media were invited for a tour of Ebony View on Friday 6 March 2015 to view progress and talk to members of the Project and Safeguarding team.
Director of Safeguarding, Greg Hall, commented:
"This building was designed and built as a replacement for the former CBU which is not ideal for residents. It is brilliant, totally different and designed specifically for people with disabilities."
Assistant Chief Secretary, Paul McGinnety, added: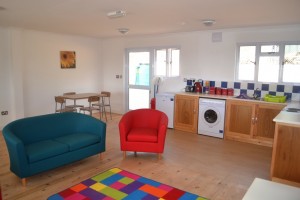 "Ebony View promotes independent living and will be a huge change for residents and staff. Residents will be living in modern accommodation that is purpose built for their needs.
"The contractors have done an excellent job in meeting specifications and we've now got a fantastic building we can be proud of."
Ebony View comprises two detached and one semi-detached block, each with two bedrooms. The transition from the CBU to Ebony View will take place towards the end of the month and a small ceremony will be held for residents' family and friends to come and celebrate their new home.
Chairman of the Social & Community Development Committee, Councillor Les Baldwin, concluded:
"There is no comparison between Ebony View and the old CBU. Ebony View is beautifully bright, open and airy. Johnny Isaac and his team have done a brilliant job and the facilities are fantastic.
"The residents have already been up for a look and they're really looking forward to moving in. They are all getting genuinely excited and I think they will settle in easily. There is a lot more independence built into these units but with supervision they will soon get used to their new home."
SHG
10 March 2015