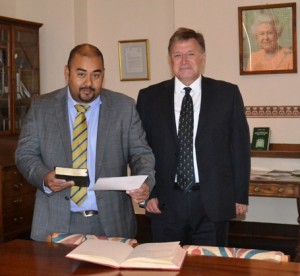 Assistant Financial Secretary, Dax Richards, has been appointed Acting Financial Secretary, following the departure of the substantive Financial Secretary, Colin Owen.
Dax took the prescribed Oaths of Office in the presence of His Excellency, Governor Capes, this morning, Thursday 16 July 2015 (photo attached).
Colin Owen and his family departed the Island today for a period of overseas leave. He will return to St Helena on Thursday 17 September 2015.
SHG
16 July 2015