A PROSPECTUS FOR CHANGE 2016-2019
A Prospectus for Change 2016-2019 was yesterday launched by St Helena Government to achieve its vision of 'SHG – A Great Place to Work and do Business With'.
The Prospectus for Change, launched by Chief Secretary Roy Burke, is a three year plan which sets out SHG's Goals and Strategies for making the public service a great place to work, while ensuring customers experience the best possible service (see diagram below).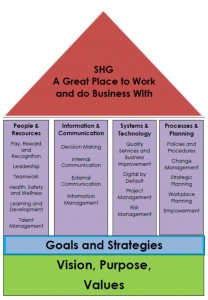 Roy Burke commented:
"St Helena is at a critical point in its history, with its first international Airport opening and becoming operational in 2016.
"The changes that will be brought about through improved access to the Island, along with the introduction of mobile telephony, mean that SHG needs to operate in a way that will meet the demands of both residents and visitors. This will be a time of unprecedented challenge for the public service and we have to ensure that SHG and St Helena is regarded as a great place to do business with."
A newly created Organisational Development & Improvement team will support SHG Directorates to deliver against the Prospectus for Change. The creation of this team recognises that high quality organisational development is essential in any continuously improving organisation.
The Prospectus for Change 2016-2019 can be found on the SHG website at https://www.sainthelena.gov.sh/publications/. Hardcopies will also be made available over the coming week in the Customer Service Centre, Public Library and Reception areas across SHG offices.
SHG
4 December 2015