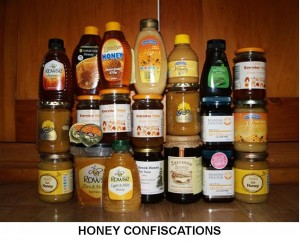 On 13March 2014 around 10kgs of honey in 23 containers and over 40kgs of assorted seeds, dried leaves, raw spices and untreated wooden artefacts were incinerated in Ruperts Valley. These are all items which have been confiscated by Customs officials from passengers and residents arriving on St Helena over the past few months – as presenting an unacceptable biosecurity risk to the Island.
St Helena has one of the last disease-free bee populations in the world, making our bees increasingly unique but very vulnerable. Honey is unprocessed and so can carry viruses, bacteria and fungal diseases to the Island, which might threaten our bee populations. Seeds, dried leaves, untreated wood and spices which don't come from commercial suppliers can all carry harmful crop and forestry pests and diseases. Seeds are particularly risky as potentially they can germinate and become weeds.
Confiscated items are placed in the incinerator when the temperature reaches 600°C and remain there for 2 hours, after which they are reduced to ash. The temperature can climb as high as 1200°C.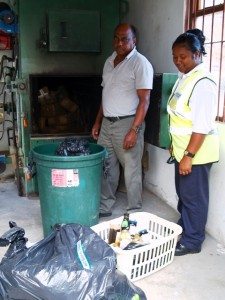 Joe Hollins, Senior Veterinary Officer, commented:
"St Helena possesses one of the last disease free bee populations in the world, a resource to be treasured and protected.  Bees are responsible for pollinating something like 25% of the fruit and vegetables consumed by man. Most of the continental land masses are now infested with a range of bee diseases, so I ask everyone to spread the word – please don't put our bees at risk."
The incineration was carried out in the presence of Biosecurity Officers and formally witnessed by a Customs official.
Two photographs accompany this release.
SHG
1 April 2014