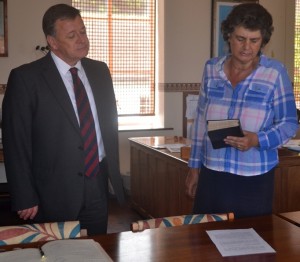 Dr Corinda Essex this afternoon took the Oaths of Office for her new role as an Elected Member in the presence of His Excellency Governor Capes at the Castle.
Dr Essex now serves on Legislative Council following her win at yesterday's Polls.
Dr Essex commented:
"I was quite overwhelmed by the result. In the discussions I had been having with people over the last couple of weeks I was aware that there was a tremendous amount of support amongst the public and so I was anticipating winning the election – but I certainly wasn't anticipating nearly as many votes as I captured yesterday.
"I would like to say a very big thank you to all of those who voted for me and I look forward to working with them in moving issues forward on their behalf."
Dr Essex previously served on Legislative Council from 1993 -1996.
SHG
13 March 2014