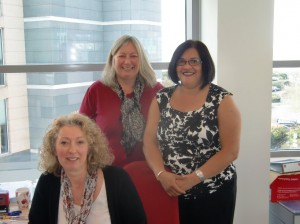 Post and Customer Service Manager, Karen Yon, recently returned from overseas training under the Queen's Diamond Jubilee Fund.
Karen's training was focused around her role as Registrar for Shipping and was arranged with the Maritime Coastguard Agency (MCA), Department for Transport, the Foreign & Commonwealth Office, the Registry of Shipping and Seamen, the Beverley Marine Office (all in the UK), the Ships Registry Office, Coastguard Office, Marine Leisure Office and Legal Office in Jersey, plus the Ships Registry Office, Harbour and Marine Office and Sea Fisheries Office in Guernsey.
These placements gave Karen a wide oversight of managing maritime matters and allowed her to ascertain whether procedures and practices on St Helena are up to date and complying with UK standards.
Karen gained an insight into:
• The policies, procedures and standards of operation for small commercial vessels, fishing vesselsand pleasure vessels
• Coding and licensing of vessels
• Surveying of fishing, pleasure and commercial vessels
• Codes of Practice
• Quality Management
• Security Management
• Documentation for registering differently coded vessels
• Mandatory, basic training for fishermen
• Pollution prevention
• Legislation
• International conventions and protocols
• Registration of births and deaths on board vessels
• Carrying out enquiries into deaths on board vessels
• Procedure for apostilled birth and death certificates
• Processing of discharge books and requirements
• Maintaining a small ships registry
• Coding for areas of operation, berthing charges and local registration for jet skis.
During her time in the UK Karen also attended the Category Two Monitoring Meeting of the St Helena Shipping Registry and met with the Chief Executive of MCA to discuss the regulatory scheme, the Annual REG Conference and the completion and signing of the MOU which would then allow the Maritime Accident Investigation Branch to carry out investigations on St Helena's behalf.
While in Jersey, Karen was invited to the Highlands College to speak about St Helena as a microstate and in Guernsey she visited The Greffe to meet HM the Greffier/Registrar General, John Torode. While there, Karen gained an insight into Guernsey's systems for registering and recording births, deaths and marriages, including the requirements for civil ceremonies. She was privileged to go into the Royal Assembly (which operates similar to our Legislative Council) where Karen was surprised to be welcomed by the Bailiff Richard Collas.
Karen said:
"The training I received on Shipping procedures was truly constructive and my visit to the Channel Islands, which like on St Helena, operate Category II Shipping Registries, was incredible. There I gained the most valuable experience and skills to be able to effectively manage our Registries in line with MCA requirements."
Karen was also placed at the Office of Telecommunications in London, where she received training on policies and procedures, licensing conditions, clarification of call signs and Maritime Mobile Service Identity digits for the Island, frequency allocations and processing and approval of applications. Karen said: "It was very rewarding and beneficial to know that St Helena allocations are registered and to gain additional skills and information which will allow me to provide a better service".
Karen also visited the Royal Mail, Heathrow Worldwide Distribution Centre (HWDC), in Slough and The 288 Group in Poole.
Karen commented:
"These placements were very beneficial, especially when I will be working with our designer on some new ideas for future stamp products. We will be able to improve our products and increase sales opportunities.
"This was also my first time leaving St Helena and I was apprehensive. But I quickly adjusted to the (normal) hectic travelling, was privileged to meet and work with some very helpful people, and have benefitted from this self-development and the contacts I have made."
Attached to this release are three photographs.
SHG
25 June 2013