News, updates and communications from St Helena Government are available through a variety of communication channels. These options are designed to suit the habits and needs of the St Helena community, ensuring you can keep up-to-date and informed as you see fit.
News and updates are posted to the SHG website at www.sainthelena.gov.sh, the SHG Twitter feed at www.twitter.com/StHelenaGovt and the SHG Facebook page at www.facebook.com/StHelenaGovt.
You can also request to be added to our direct mailing list, to receive updates directly to your email. If you'd like to be added, please contact kimberley.peters@sainthelena.gov.sh.
In addition to the main SHG channels, several portfolios and directorates also have their own social media handles. Through these, you can keep up-to-date with what is going on across a variety of government work areas.
All available channels are listed below. It is now up to you to choose your preferences.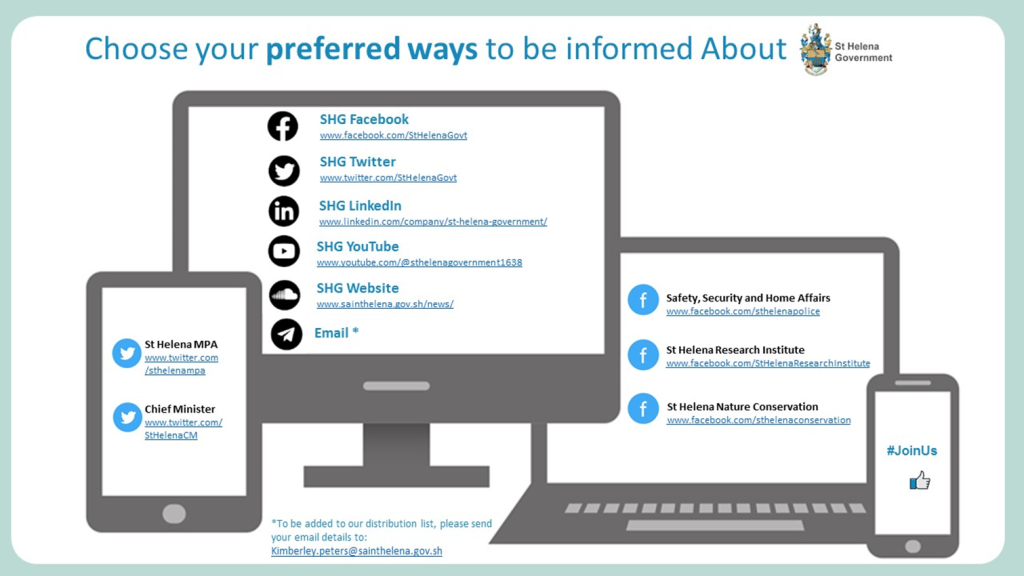 #StHelena #News #Updates #Communications #SocialMedia