The RMS St Helena, affectionately known as the RMS, made an emotional departure from St Helena on Saturday, 10 February 2018, following 27 years of dedicated service to the Island.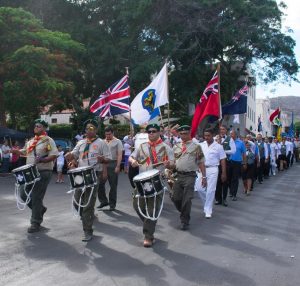 On Saturday morning at 9am, the current crew of the RMS, dressed in their respective uniforms, accompanied by the Scouts, Cubs, Beavers, Girl Guides, Brownies and Rainbows, paraded from the Canister to the Seafront in Jamestown. A large crowd of people followed the parade to the Lower Wharf, where they said their last goodbyes to the crew. Before the crew was ferried back to the RMS by the Gannet Three, the boat circled the harbour allowing the crowd ashore to give them a final cheer.
The goodbyes continued thereafter as passengers for the final voyage began embarking the RMS.
At approximately 2pm, a large crowd of spectators assembled at the Lower Wharf, and were treated to musical entertainment provided by the 'Get Togethers', 'Dry Bottle Country Band', Pilling Primary School and the 'St Helena Singers'.  The crowd was encouraged to sing along to the well-known 'My St Helena Island'.
At 2.45pm, all present witnessed the carrying of the 27ft 'paying off' pennant (marking the 27 years' service of the RMS) by School competition winners, from the Customs Building to the Lower Wharf. The pennant was then presented to Captain Adam Williams by Director of St Helena Line, Mrs Kedell Worboys MBE.
Throughout the afternoon, a specially made model of the RMS funnel showered confetti onto spectators.
The RMS House Flag was also lowered signalled by the Sunset Post.
Before the Ship's departure, a spectacular flotilla of boats, including jet skis, lighters and yachts, dressed with flags circled the RMS while the St Helena Fire & Rescue Service saluted her with a water arch before she weighed anchor. The RMS then made her way to Buttermilk Point, accompanied by the flotilla, before turning around and steaming past the harbour in full dress.
As the ship steamed past the harbour for a final time, she sounded her horn. Many spectators onshore waved banners and flags to bid farewell to the ship.
The RMS stopped at Lemon Valley to remove her flags and pennant before continuing her onward journey to Cape Town.
#StHelena #RMSStHelena #FinalFarewell #ThankYou
https://www.facebook.com/StHelenaGovt/
https://twitter.com/StHelenaGovt
SHG
13 February 2018