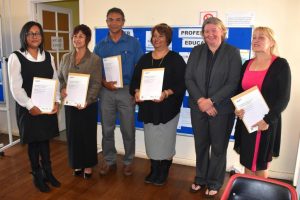 Students of the St Helena Community College (SHCC) today received certificates for their respective courses in the presence of tutors, family, friends and invited guests, including government officials, and Her Excellency, Governor Lisa Phillips.
The certificate presentation began with opening remarks from Director of Education, Shirley Wahler, followed by Governor Lisa and SHCC Training Coordinator, Angela Benjamin.
Certificates were presented to those gaining qualifications in Functional Skills (Mathematics and English), GCSE Mathematics, IGCSE (English and Accounting), CIPD Human Resources Essentials, GCE Marine Science, ECDL IT, NVQs, and City & Guilds Electrical Installations.
Five people were recognised for completing their apprenticeships – four within the automotive field and one beautician.
The last awards of the day went to the eight students who all passed their French Level 1 with a distinction. One student in particular, Lionel Joshua, received a special award for his efforts.
Following the presentation, Shirley said:
"There is a really good feeling here today. One of the presenters said there is no feeling for a teacher better than seeing students achieve and that doesn't change no matter what the age of the student. But beyond that it's really encouraging to see how many people are taking advantage of these opportunities from the usual things like English and Maths all the way through to French, Hospitality and Electrical Installations. It's just been a really encouraging and happy day for us."
Shirley went on to thank the staff of the SHCC as well as the tutors and assessors who she labelled as 'unsung heroes'.
#StHelena #Education #SHCC #CertificatePresentation #Success
https://www.facebook.com/StHelenaGovt/
https://twitter.com/StHelenaGovt
SHG
14 June 2017