REMINDER This year's Careers Fair, led by the Education & Employment Directorate, will take place on Wednesday 28 October 2015 at Prince Andrew School starting at 10am to 3.30pm and re-opening in the evening from 6.30 to 8.30pm. The annual Careers Fair provides members of the public, students and job seekers with a chance to meet employers face-to-face and gain a real insight into the requirements for different careers on the Island. The Fair also highlights opportunities available and allows people to market themselves to prospective employers. The Careers Fair is essentially for anyone who is interested in career development. This year there will be demonstrations by drugs dog Millie and police dog Tommy, and from the Police, Fire and Ambulance response teams. Also Mike Harper and Bevan Youde from 2onMain will be showing off their catering skills. There will also be short presentations by staff members from Solomon & Company, the Public Solicitor's Office, Enterprise St Helena, Public Health, the Education Directorate and Internal Audit. The Prince Andrew School Hall will be arranged for visitors to browse the various stalls and see what each organisation has to offer, view displays and ask any questions. Stall holders will include Solomon & Company, Connect St Helena, Bank of St Helena Limited, South Atlantic Media Service (SAMS), Enterprise St Helena, Delco, ProArc, Essence, Stretches Extreme Cuts, Health Directorate, Corporate Services, Police and Prison Services, Fire and Rescue Services, SHAPE and the Education & Employment Directorate. Careers Fair Coordinator Cynthia Bennett said: "I am extremely grateful to all participants who are dedicating their time and effort to be present at this Fair. Members of the public are urged to not miss out on this exciting exhibition and the opportunity to broaden your knowledge on careers." SHG 20 October 2015
At its meeting on 15 October 2015, the Environment & Natural Resources Committee agreed that with effect from Monday 26 October 2015, until further notice, the Horse Point Landfill Site (HPLS) will operate under new opening and closing times as follows:
Open – Monday to Saturday, 9am to 3pm
Closed –
Sundays and Public Holidays
  On Mondays to Fridays HPLS will be accessible via both the public and commercial entrances, as signposted. On Saturdays, HPLS will only be accessible via the public entrance. Access to the main site may be provided by the Landfill Operator, depending on the type of waste to be disposed, via the barrier at the Public Recycling Facility. Site users are requested to kindly follow instructions given by the Landfill Operator. Waste Management Services is committed to providing a safe and user friendly recycling and disposal facility for the benefit of all residents.
For further information, please contact the Environmental Risk Manager, Mike Durnford, on tel: 24724 or email
mike-durnford@enrd.gov.sh
.
SHG
20 October 2015
Better Data. Better Lives.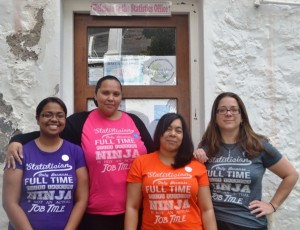 Today, Tuesday 20 October 2015, the St Helena Statistics Office is celebrating World Statistics Day by continuing to stress the importance of accurate statistical information for the Island and spreading the message of
Better Data. Better Lives.
At a critical period in the Island's development we remind people of the importance of data to inform policy formation, to enable effective (and accountable) decision making, and perhaps above all – to ensure that we can monitor the wellbeing of the Island and her people. In September 2015 the Island saw two vital advances – the landing of the first aeroplane, closely followed by the 'switching on' of the first mobile phone network. This level of access, both physical and digital is frequently taken for granted in the rest of the world but here on St Helena they signal the acceleration of the Island and her people towards connection with the rest of the world, irrevocably changing the way the Island operates. Some examples of where data has been used to support the sustainable development of St Helena over the last year alone include:
Helping to safeguard against poverty by providing evidence of the inflation in the basket of goods and services which informs the Minimum Income Standard for St Helena, from which Income Related Benefits payments are set
Supporting decisions around airline and shipping services through analysis of passenger and cargo arrivals
Supporting the team responsible for carrying out a livestock Census with the provision of timely evidence as to the effectiveness of selective breeding programmes for sheep and cattle
Producing evidence to support effective policy formation critical to the sustainable development of the Island. One example was providing evidence on the impact of revisions to import duty tariffs for selected agricultural imports – which in turn supports local farmers with the intention of increasing local production.
  These seemingly small outputs have had a significant positive impact on the economic and social wellbeing of St Helena and her people. Improved availability of data enabled the production of the first State of the Island report, providing an overview and insight in to key areas of wellbeing for the Island. A population and housing Census, to be completed in February 2016, will provide the last pre-air-access snapshot of the Island and her people. These data will be relied on and built upon for years to come. The message of the 2016 St Helena Census is We Count Because YOU count and the message of World Statistics Day is Better Data. Better Lives. These messages hopefully speak for themselves. Official statistics help decision makers develop informed policies that impact millions of people. Improved data sources, sound statistical methods, new technologies and strengthened statistical systems enable better decisions that result in better lives for all of us. The value of statistical information is disproportionately large in small places such as St Helena, and never more so than during periods of change. SHG 20 October 2015
BED AND BREAKFAST ESTABLISHMENTS
With the growth of tourism on St Helena there may be those wishing to offer a Bed and Breakfast service. The B&B as it is called, is a small lodging establishment – normally a private or family home – that offers overnight accommodation, including breakfast (but usually does not offer other meals). For the next few weeks, the Enviromental Health Section will be providing guidance on the food safety and health and safety requirements that apply to B&Bs.
Food Safety
The main legislation affecting the establishment of a B&B is the Food Hygiene Regulations. The new regulations will soon be introduced, under which a number of specific regulations are made to apply to all food premises.
What is a Food Premises?
A Food Premises is any premises used as a food business, including bake houses and private dwellings used to prepare food for sale.
Food Premises Registration
Registration as a food premises with the Environmental Health Section is a legal requirement. Registration forms are available from the Environmental Health Section and failure to register is an offence. Routine food hygiene inspections can be carried out at any reasonable time with notice by an officer from this Section, and they can inspect without prior notification when investigating complaints.
Inspection Topics
When visiting a premises the main food hygiene requirements and topics that the inspecting officer may wish to discuss and will be assessing during a routine food hygiene inspection are:
Size of the kitchen/production area
Lighting
Ventilation
Equipment
Surfaces – size and intended use
Cleaning
Waste
Pest control
  A more in depth description is given below: Structure Floors, walls, ceilings, doors and windows must be in good condition. They must be able to be cleaned and disinfected. Lighting and Ventilation Should be provided in all parts of the premises, and can be either natural or artificial. The type of ventilation will depend on the size and activity of the kitchen. For small premises with low heat production, opening windows or doors may be used. If this is the case, proofing against the entry of insects may need to be considered. Equipment All equipment that you use must be kept clean and maintained in a good condition. Equipment must be suitable for the intended purpose. Cleaning facilities There must be facilities for washing food and equipment. These must be kept clean and have a continuous supply of hot and cold water. Refuse Disposal Food waste and other refuse must not be allowed to accumulate in any kitchen. The containers used for food waste must be easy to clean and disinfect and must be kept in good condition. Any refuse container used for storage of waste awaiting collection must have a lid and be made of a durable material that can be easily cleaned and disinfected. Pest Control You must take steps to prevent and control entry of pests onto your premises. Pests include mice, rats, birds and insects (eg. cockroaches). More on B&B requirements next week. SHG 20 October 2015
A plaque to mark the amazing ten days Napoleon Bonaparte spent captive in Plymouth Sound in the UK was unveiled on Friday 16 October 1815 – exactly 200 years since Napoleon first set foot on St Helena. The monument, a piece of stone from St Helena, embedded in granite from Dartmoor prison – where thousands of French prisoners were held during the Napoleonic Wars – was unveiled by Alain Sibiril, Honorary Consul of France in Plymouth and the Lord Mayor of Plymouth – together with Mrs Kedell Worboys MBE, St Helena Government UK Representative. The volcanic stone embedded in the Dartmoor Granite comes from Longwood House, Napoleon's home on St Helena, and was transported to Plymouth by the French Navy and Brittany Ferries. It bears the inscription
'May our hearts be open to friendship and our arms reach across the sea to unite our two nations' –
written by Mrs Melisande Fitzsimons, a French poet living in Plymouth. Councillor Peter Smith, Deputy Leader of Plymouth City Council, said at the event:
"This has been a fantastic event and has helped bring a fascinating piece of Plymouth's amazing history to a wider audience.
"People will be able to walk past this place and imagine the scene in 1815 when thousands of people flocked to see Napoleon. The Napoleonic Wars shaped this city and we are delighted to have our French friends here to mark 200 years of friendship."
Kedell Worboys, added:
"A little piece of St Helena will now always be in Plymouth."
Monsieur Sibiril concluded:
"2015 is an appropriate time to commemorate the enduring peace which has prevailed between our two countries as friends and allies. These stones and plaques will not only be another historic landmark for our maritime city but are intended to help ensure our close relationship endures."
The commemorative stone and plaque on Madeira Road, Plymouth, have been funded by Alain Sibiril with the help of Plymouth City Council, the Franco-British community, St Helena Tourism and Brittany Ferries. Representatives from HMS Northumberland, together with Officers from the French Navy, were also guests at the ceremony – along with another rather large guest – the Brittany Ferries vessel, Pont Aven – which appeared in the Sound and blew her horn in appreciation. Napoleon was held in Plymouth onboard HMS Bellerophon from 26 July to 4 August 1815 following his defeat at Waterloo, while the British Government decided his fate. Thousands of people from Plymouth and much further afield, came to try to catch sight of the 'Fallen Emperor' – a man the British had been fighting for some 22 years. He was sent into exile on the South Atlantic Island of St Helena. Napoleon, onboard the HMS Bellerophon left Plymouth Sound, before being transferred to HMS Northumberland for the long voyage south. He died on 5 May 1821, in exile, on St Helena. This event coincided fittingly with the end of the Napoleonic Bicentenary events held on St Helena. Two photos are attached to this release.
SHG/ESH
20 October 2015
Executive Council will meet tomorrow, 20 October 2015, at 9.30 in the Council Chamber for the following Open Agenda item:
Strategic Plans for Jamestown Wharf
Executive Council Members are: Lawson Henry, Brian Isaac, Christine Scipio-O'Dean, Pamela Ward Pearce and Derek Thomas. Non-voting members of ExCo are: Financial Secretary Colin Owen, Attorney General Nicola Moore and Acting Chief Secretary Gillian Francis. SHG 19 October 2015
The formal audits for certification of St Helena Airport will begin on 31 October 2015. This is a critical stage, when the Airport, associated infrastructure and personnel need to demonstrate compliance with the standards for airport safety and security mandated in the Overseas Territories Aviation Requirements (OTARs). The audits will be undertaken by Air Safety Support International (ASSI), the regulator for St Helena Airport. The audit process will be split into two phases, with the first phase taking place during the period 31 October to 8 November 2015. In the first phase, Owen Healey, Principal Inspector of Rescue & Firefighting at the UK Civil Aviation Authority, will visit the Island to audit the Airport Rescue & Fire Fighting Services and to verify all aspects of emergency planning. At the same time, ASSI personnel in the UK will audit essential procedures through a series of desktop exercises focusing on operational safety and likely to include live testing of the Airport operations team by telephone link. The results of the first phase of the audits are expected in mid-November and will be used to inform the second phase. This is planned for January 2016. A team from ASSI will travel to St Helena to audit security and air traffic control systems, the latter requiring an operational aircraft to test the systems. Nigel Spackman, St Helena Aerodrome Manager, said: "Alongside the final stages of construction, work towards certification is progressing well – with the aim of ensuring a smooth transition into commercial flight operations. We have been working for some months now to prepare manuals, Standard Operating Procedures and other operational processes that will guide all operations at St Helena Airport. Training and trials of various parts of the operation is ongoing as Airport staff continue to develop their skills and we work through any issues highlighted by the trials. "The audits will be challenging, but this is to be anticipated – there shall be no compromises in relation to Airport safety and security. No airport goes through a certification audit without having to undertake some corrective action and I welcome advice from colleagues in ASSI on how we can improve." Further information on the audits will follow in due course. SHG 19 October 2015
At its meeting on 15 October 2015, the Environment & Natural Resources Committee agreed the following changes to the St Helena Waste Management Services with immediate effect:
The collection of waste from commercial premises (shops and bars) in Jamestown will reduce from the current five day a week service to four days a week. As a result, there will be no collection of waste from commercial premises in Jamestown on Tuesdays
Tuesday is the waste collection day for the Half Tree Hollow area – the largest of all domestic waste collection routes. The volume of waste on the HTH route often exceeds what the RCVs can safely collect – and reducing collection of commercial waste from five days a week to four in Jamestown provides the necessary increased capacity in the RCVs to safely complete the entire route on a Tuesday.
The twice weekly collection of household waste in Jamestown will reduce to a one day per week service, consistent with all other residential properties on the Island. Household waste in Jamestown will therefore now only be collected from residential properties on Fridays.
This change realises a reduction in vehicle and fuel use and frees staff to undertake other waste management tasks for the benefit of all residents. For further information contact the Environmental Risk Manager, Mike Durnford, on tel: 24724 or email mike-durnford@enrd.gov.sh. SHG 19 October 2015
REMINDER
"I was really pleased to receive the Chevening Scholarship as I had always thought it impossible for me to attend university and achieve a Degree. Applying for a scholarship was one of the best decisions I have made in my life – not only have I been able to further my education but it has given me great life experience.
"The Chevening team were very supportive and the scholarship has given me innumerable opportunities throughout my life. I really hope others will take advantage of this life changing opportunity."
– Tracey Williams, St Helena Chevening Scholar (2002)
The Chevening Secretariat is accepting applications for 2016/17 Chevening Scholarships via
www.chevening.org/apply
– until Tuesday 3 November 2015.
Chevening Scholarships are awarded to individuals with strong academic backgrounds who also have demonstrable leadership potential. The scholarship offers financial support to study for a Master's Degree at any of the UK's leading universities and the opportunity to become part of an influential global network of 44,000 alumni. There are approximately 1,500 Chevening Scholarships on offer globally for the 2016/2017 academic cycle, representing a significant investment from the UK Government to develop the next cohort of global leaders.
For more information, visit
www.chevening.org/faqs
for details on the eligibility criteria and award specifications – or contact Manager of the Governor's Office, Sandra Sim, on tel: 22308 or email:
sandra.sim@sainthelena.gov.sh
Chevening Scholarships are funded by the Foreign and Commonwealth Office (FCO) and partner organisations. The scholarships support study at UK universities – mostly for one year Master's Degrees – for individuals with potential to become future leaders, decision-makers, and opinion formers.
SHG
19 October 2015
Governor and Mrs Capes with Commander Laughton of HMS Lancaster
Royal Navy Frigate HMS Lancaster bade farewell to St Helena this morning with a special pass across James' Bay, marked by firing a two-gun Salute to the Island and ending her four day stay at St Helena. HMS Lancaster and RFA Gold Rover (which departed St Helena on Thursday evening) visited the Island from Monday 12 October 2015 to take part in the bicentennial anniversary of Napoleon's arrival to the Island.
While here, Royal Navy personnel participated in various activities, bicentenary events and enjoyed exploring St Helena. Yesterday evening, a reception hosted by HE Governor Capes was held at the Briars Pavilion for invited guests and French visitors – and as a thank you and farewell to the Royal Navy.
Governor Capes said last night:
"This has been a memorable week. A positive week. An enjoyable, week filled with good will and a sense of common purpose. A week of friendship and of shared interests. A week full of history and yet all the time with our minds turned towards a future in which we build on that history.
"Napoleon's years on St Helena form an important part of our history. We warmly acknowledge his legacy. A legacy that today brings visitors to St Helena from far and wide. And here I must thank the very distinguished representatives of the Government of France and the Napoleon Foundation, Ambassador Mendelson and Prince D'Essling, and their colleagues, for being here for this bicentennial week.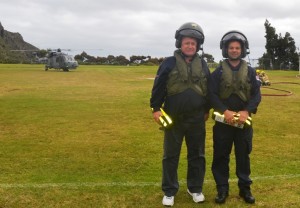 Governor Capes and Commander Laughton
"St Helena is working its way through a period of profound change. We are now on the brink of joining the rest of the world, by moving from travelling overseas by sea, to travelling by air. Of course, amid all this change some things will remain constant. As a remote Island surrounded by thousands of miles of ocean, our links with the sea will remain strong. Those links are also part of our history, part of our culture and have shaped the way we live.
"For this Island community it will be forever reassuring to see Her Majesty's ships in James' Bay. We thank you Commander Laughton, you and the crew of HMS Lancaster, and also Captain Selby and the crew of the RFA Gold Rover, for making the journey to St Helena and for sharing with us the bicentenary of Napoleon's arrival on HMS Northumberland 200 years ago today.
"Let us respect and understand our history. As we move forward let us not forget the sacrifices and labours of those that have gone before us. Let us honour them, by striving together to give this extraordinary Island a brilliant future."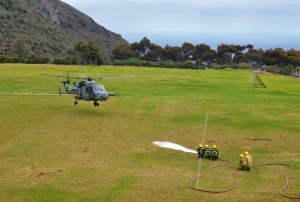 Wildcat Helicopter Lands at Francis Plain
Prior to departing St Helena this morning, HMS Lancaster hosted Governor Capes and Head of the Governor's Office, Sean Burns, onboard. Governor Capes and Mr Burns were collected from Francis Plain by the Lancaster's Wildcat helicopter for a flyover of the Island before a tour onboard the ship.
Members of the public and schoolchildren were able to witness the landing of the Wildcat helicopter at Francis Plain, returning the Governor and Mr Burns, which provided a fitting ending to the Navy's most recent visit to St Helena.
Three photos are attached to this release.
SHG
16 October 2015
Each year, St Helena supports the Royal British Legion's work through the St Helena Poppy Appeal.  The poppy appeal is the Legion's largest annual fundraising campaign and each year has a different focus. This year, The Royal British Legion continues to mark the centenary of the First World War and asks everyone to support the appeal in memory of the fallen and the future of the living.
The poppy is a powerful symbol – worn to commemorate the sacrifices of our Armed Forces and to show support to those serving today, along with their loved ones.  The remembrance poppy is especially prominent in the UK – and here on St Helena in the weeks leading up to Remembrance Sunday (on 8 November 2015).
On Saturday 24 and Saturday 31 October, plus Saturday 7 November, the Poppy Appeal – led by Mike Durnford – will be raising funds in lower Jamestown – through the distribution of poppy wristbands, lapel pins, emblem stickers, badges, rulers, bracelets and standard poppies.  Uniformed contingents of ex-servicemen, Salvation Army members, Scouts, Guides and volunteers – will be making their way through Main Street and members of the public are encouraged to support the appeal and obtain their poppies in advance of Remembrance Sunday.
The Remembrance Service will be held on Sunday 8 November 2015 at the Cenotaph, beginning at 10.55 am.
SHG  
16 October 2015
Royal Navy Frigate HMS Lancaster and fuel tanker RFA Gold Rover, arrived at St Helena on Monday 12 October 2015 to take part in the bicentennial anniversary of Napoleon's arrival to the Island – exactly 200 years ago today, 15 October 2015.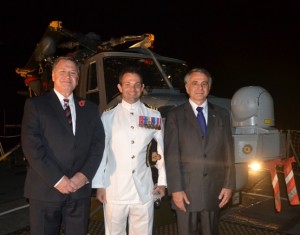 Since their arrival, the crews of both vessels have participated in various activities and bicentenary events and have enjoyed exploring the Island. Today, the Commanders of HMS Lancaster and RFA Gold Rover, accompanied by HE Governor Capes, French Ambassador Jean Mendelson and Prince d'Essling and ships' personnel conducted a ceremony at Napoleon's Tomb  to commemorate the funeral of Napoleon.
HMS Lancaster has also hosted various activities onboard, including a reception on Tuesday evening when invited guests were able to meet Royal Navy personnel and tour the vessel.
Speaking at the reception, HE Governor Capes welcomed Commander Laughton of HMS Lancaster and Commander Selby of RFA Gold Rover andtheir teams to St Helena.
Governor Capes said:
 "The silhouette of Royal Navy ships here in James' Bay is always a pleasing andreassuring sight to behold, and I have no doubt that the people of St Helena will forever welcome the Royal Navy to their Island. 
"I wish you and your crews an enjoyable few days with us in this very special week, as on 15 October, we mark the 200th anniversary of the arrival of perhaps our most reluctant visitor.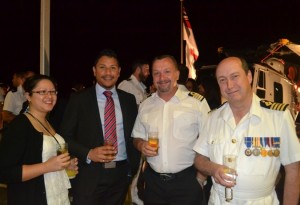 RFA Gold Rover Commander Selby with guests
"The story of Napoleon's arrival and stay on St Helena is now firmly woven into the fabric of our history, an extraordinary episode creating for us today an important legacy for the Island, a prominent and valued feature of St Helena's rich and colourful story.  
"I am delighted that we have with us for this bicentennial week, and with us now on the Queen's Frigate, Ambassador Jean Mendelson representing the French Government and Prince d'Essling, President of the Napoleon Foundation, as well as other distinguished visitors from France.
"As we stand here this evening, if Napoleon and Governor Hudson-Lowe were watching us from on high, I wonder what they would be saying to each other.  
"On that intriguing note Commander, on behalf of the people of St Helena, our grateful thanks to you for your hospitality, and our thanks to Her Majesty's Royal Navy for its enduring commitment to the South Atlantic Overseas Territories."
HMS Lancaster continued its hospitality on Wednesday by hosting local media for an on board tour, followed by interviews with Lieutenant Commander James Thomson, Second In Command of HMS Lancaster. Also on Wednesday Primary School children and a French party were hosted on the ship.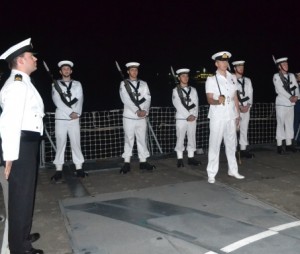 Onboard HMS Lancaster
Lt Cdr Thomson, who has been with HMS Lancaster for two years, commented:
"This is part of our nine month deployment, during which we carry out a number of different roles around the globe – part of which is reassurance to the UK Overseas Territories.
"Typically we have about 175-180 crew on board and when we deploy that rises to up to 210 additional personnel that we take with us as we work on ourdeployments.
"HMS Lancaster is traditionally an Anti-Submarine Warfare ship, one of the three roles we operate, along with Maritime Security and Defence Engagement and Reassurance."
HMS Lancaster also carries the advanced maritime attack helicopter, Wildcat, which many Island residents will have seen in flight, conducting reconnaissance and aerial footage of the Island before becoming (on Wednesday) the first ever rotary aircraft to land at St Helena Airport. The Wildcat will also be landing at Francis Plain on Friday morning to collect Governor Capes for a visit on board HMS Lancaster at sea.
Prior to her departure from St Helena on Friday morning HMS Lancaster will conduct a high speed 'Steam Past' across James' Bay to bid farewell to the Island.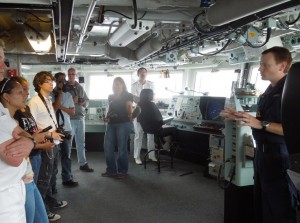 Local Media at HMS Lancaster Bridge
HMS Lancaster still has a busy eight-week program ahead, conducting engagement operations in West and North Africa, the Gulf of Guinea and Cape Verde Islands. The ship will then head back to the Mediterranean and Gibraltar before returning to the UK one week before Christmas.
HMS Lancaster's next major deployment will be in 2017.
SHG
15 October 2015