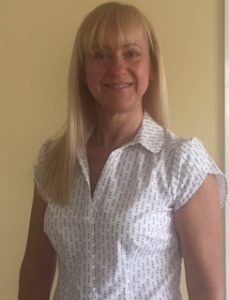 The St Helena Police Service will soon be welcoming a new Detective Chief Inspector, DCI Wendy Tinkler (photo attached).  DCI Tinkler will be responsible for Crime, Safeguarding & Public Protection matters and succeeds St Helena's previous DCI, Pam Trevillion, who left the Island earlier this year at the end of her contract.
DCI Tinkler is currently a serving Police Officer with Durham Police in the UK and will arrive at St Helena with her husband on Thursday 19 May 2016, on a two year contract.
Wendy said of her appointment:
"I am really looking forward to the new challenges ahead, integrating with the local community and forging strong relationships with partner agencies.  Crucial to the investigation of safeguarding concerns is the maintenance of public trust and confidence. 
"Protecting the most vulnerable in our society is absolutely vital and I look forward to building on the safeguarding work which has already been undertaken by agencies on St Helena."
Chief of Police, Trevor Botting, added:
"DCI Tinkler has an impressive background in safeguarding and crime investigation. I am confident that she will work well with our partners as well as lead her team as they continue to build upon the current safeguarding procedures on St Helena.
"Protecting those most vulnerable in our community is a key priority for the Police Service and I look forward to working with DCI Tinkler as she leads our response to safeguarding and crime issues on St Helena."
Wendy has a wealth of experience in her field. She joined Durham Constabulary 16 years ago where she forged strong links with local Investigation colleagues to tackle crime.  She has also been trained in Achieving Best Evidence Interviewing, which encouraged her interest in safeguarding.
DCI Tinkler began her safeguarding career in a child protection role in 2004.  She was promoted to the rank of Sergeant in 2009 and in 2010 became a Detective Sergeant, leading on child protection, before qualifying as a Specialist Child Abuse Investigator. 
In 2012, she was promoted to the rank of Detective Inspector, in charge of the Safeguarding Unit – encompassing domestic abuse, adult abuse and child protection investigations. 
A year later, DCI Tinkler successfully achieved a first class Honours Degree in Applied Investigation before becoming a Crime Manager/Detective Inspector in 2014 for the area of Darlington – an area similar in size to St Helena but with approximately 100,000 residents. Here she was responsible for all serious and volume crime and managed a team of 45 detectives. 
In 2015, to broaden her policing experience, Wendy joined the Road Policing Unit as Strategic Roads Policing Inspector – where her main focus was the development of a unit to investigate all fatal road collision investigations. 
SHG
9 May 2016