Yesterday's traditional St Helena's Day celebrations (21 May 2014) were once again organised by New Horizons and held in lower Jamestown.  Activities and stalls were laid out in the Mule Yard and along the Wharf, with busy crowds enjoying the sunshine.  
The festivities began with a parade from the Canister involving the Scout, Brownie, Guides and Rainbows troops.  Speeches were given by Miss St Helena, Sinead Green and the day was officially opened by Acting Governor Sean Burns.
The mini marathon began proceedings, followed by a themed fancy dress competition.  One of the highlights of the day was the much anticipated themed float parade with New Horizons' Lemon Valley float winning first prize and the St Helena National Trust and Saint FM winning second and third places respectively.
International Day for Biological Diversity is held today on (Thursday 22 May) and this theme was brought forward a day and celebrated on St Helena's Day.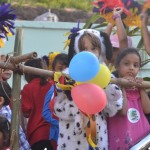 A firework display ended the day with live bands entertaining onlookers in the Mule Yard and at Donny's into the evening.
Five pictures of the day's celebrations accompany this release.
SHG
22 May 2014