Porridge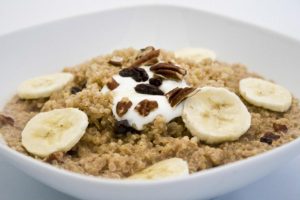 Ingredients
200g high-fibre porridge oats 1 litre 1% fat milk
80ml cold water
(optional – dried fruit, nuts and fresh fruit)
Method
1. Put the porridge oats into a saucepan with the milk and water
2. Heat, stirring constantly, until the porridge thickens
3. Reduce the heat and simmer for 3-4 minutes, stirring
If you or the kids can't tolerate dairy products, make the porridge with water, or try making it with soya milk.
Fruit and nuts can be added on top, or cooked with the porridge.
Serves 4
Virgin Mary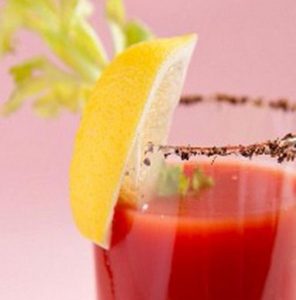 This non-alcoholic version is great for grown up kids who like spicy flavors, so they don't feel left out at the party. Each person can adjust the heat by adding their own Tabasco sauce. It's also an impressive-looking drink so make sure you've got enough to go round all your guests if you're serving it at a party, as there's no doubt people will want one when they see it.
Ingredients
 2 ice cubes
 150ml tomato juice
 ½ lemon, juice only
 6 dashes Worcestershire sauce
 3 dashes Tabasco sauce
 Pinch of salt and freshly ground black pepper
 Celery stick and lemon wedge, for garnishing
Method
In a tall glass, pour the tomato juice over the ice, add the lemon juice, Worcestershire sauce, tobasco, salt and pepper and stir. Serve with a stick of celery and wedge of lemon.
Italian Soup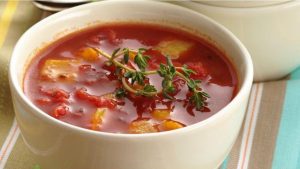 Adapted from a weightwatchers recipe
Ingredients
5 peppers roughly chopped—preferably different colours Half a cucumber peeled and roughly chopped 1 onion—preferably red, roughly chopped 2 garlic cloves—crushed 200g (7oz) cooked pasta 400g can chopped tomatoes 2 sprigs of fresh mint or 2 teaspoons of dried mint 2 tablespoons red wine vinegar 1 tablespoon sugar 2 fresh tomatoes skinned, deseeded and chopped finely Bunch of fresh or 2 teaspoons dried parsley Pepper to taste
Method
1. Liquidise 4 of the peppers, cucumber, onion, garlic, pasta, tomatoes, mint, vinegar, sugar and seasoning for a few seconds, until you have a thick soupy texture, but not smooth. If you do not have a liquidiser, chop up all the vegetables until finely diced and mix with all the other ingredients in a large bowl. Pour into bowls and chill.
2. Garnish each bowl with some of the remaining pepper, fresh tomato and parsley and possibly a couple of ice cubes before serving.
To skin and deseed the tomatoes, drop them into a bowl of boiling water for 10 seconds and them remove with a slotted spoon. The skins should slip off easily. If not, pop them back into the boiling water for another few seconds. Cut the tomatoes into quarters and remove the seeds.
Dry January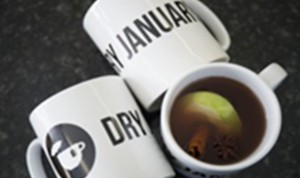 Spicy Apple Punch
2 parts apple juice
1 part apple and cinnamon tea
1 part pomegranate juice
1/2 part red grape juice
splash elderflower cordial
1/2 an apple sliced
orange zest and juice of half an orange
cinnamon stick, 5 cloves, 2 cardamon pods
Put all ingredients in a pan and warm slowly, letting all the spices infuse.
Pour into your mug and garnish with an apple slice.
Marian's Iced Tea
No summertime meal in the South is complete without good ole iced tea. Glass carafes and lemon slices make an elegant presentation of this classic.
Ingredients
4 regular-size tea bags
5 cups water, divided
no-calorie sweetener (to taste)
Garnishes: lemon slices, mint sprigs
Preparation
Bring tea bags and 2 cups water to a boil in a saucepan; turn off heat. Cover and steep 30 minutes. Remove and discard tea bags.
Pour into a 1/2-gallon pitcher, and add 3 cups water and sweetener, stirring well. Serve over ice. Garnish, if desired.
Yield
Makes 5 cups
Teriyaki Tuna with mango & Pineapple salsa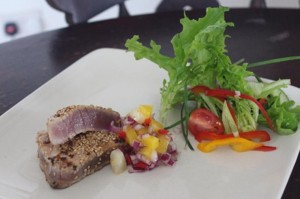 Tuna
600g (four 150g steaks)
Teriyaki Marinade
6 tbsp
Sesame seeds
6 tbsp
Oil to fry
Mango and coriander salsa
1 Mango
1 Pineapple
1 Red onion
Red chills deseeded and finely chopped
A small bunch of coriander, finely chopped
Method:
1. Make the salsa
2. Peel and dice the mango, pineapple and onion into fine pieces (core the pineapple)
3. Combine all the salsa ingredients carefully
4. Brush the tuna steaks with the teriyaki glaze and sprinkle with the sesame seeds
5. Pan fry in a hot pan with as little oil as possible
6. Serve with a side salad and a potato dish of your choice
Pork and Mango Meatballs with a Chilli Sauce
(contributed by Mike Harper)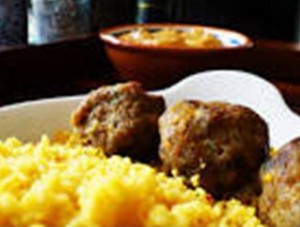 Ingredients
 500g lean minced pork
2 medium onion chopped
1 teaspoon ground cumin
1 teaspoon ground coriander
1 tablespoon chopped parsley
1 teaspoon salt
Freshly ground black pepper
2 tablespoon mango chutney
200-300g Couscous
For the sauce
 1 400g tin chopped tomatoes
2 small red chilli's (finely chopped) or according to taste
2tsp vegetable stock
2tbsp tomato puree
2 tablespoon chopped coriander
Method
 Preheat the oven to 200c (400f or gas mark 6)
 In a large bowl combine the pork with the other ingredients, mixing
well with a wooden spoon.  Season with black pepper.
 Form the mixture into golf ball size pieces.  Roll until smooth a
place in a deep ovenproof dish.
 Combine the sauce ingredients in a saucepan and bring to the boil
 Pour over the meatballs and place into the oven for 35-40 minutes.
 Make the couscous and divide equally between the plates.  Place
3 meatballs onto each plate and serve
Serve with vegetables