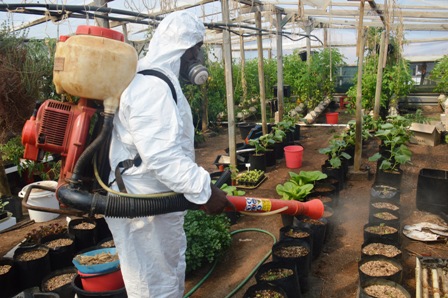 Pesticides are valuable tools in the battle against pests and weeds, but being poisons can be very dangerous if not treated with respect. Risks run from the sales staff who have to handle the containers, the sprayers themselves, non-targets such as pets and livestock, and right down the line to the food we eat and the water we drink.
The ANRD Pest Control Service offers a diagnostic service to farmers and gardeners on the island, as well as a professional ANRD spraying service products for farmers.
Two examples of risk assessment sheets for the professional sprayer are shown here for Garlon and Garden Ripcord. For further examples, please contact Farmers Support at Scotland on 24724.
Plant Protection Guides are being developed to help farmers manage pests and common problems on crops under both covered and open field production.
In August the four main importers of pesticides to the island, Queen Mary Stores, Solomons, St Helena Growers Co-operative Society and WA Thorpe and Sons signed a Voluntary Code of Practice together with ANRD, agreeing on standards for the way in which pesticides are stored and offered for sale to the public.
The code aims to take steps to protect the public from the adverse effects of pesticides and ensure their safe and effective use to produce high quality pest and disease-free crops. Under the voluntary code, in the future professional use products will only be sold to people who have received training and one of ANRD's commitments is to provide this training. The next course will take place in January 2014, with funding assistance from Enterprise St Helena.
Codes of Best Practice for pesticide use don't provide exact solutions to the problems of managing pests and weeds but following their practical guidance will help to protect sprayers, members of the public and consumers of treated produce from the potentially harmful effects of pesticides: