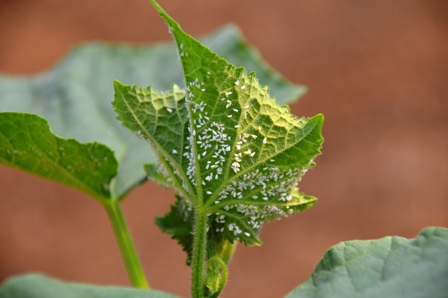 As a remote oceanic island, St Helena has relatively few pests compared with continental equivalent, but those present can have serious impact due to the lack of pressure from natural enemies and ecological competition. A pest is defined as "any living organism which causes a problem to people, their structures, animals and livestock, and also to the natural environment, native plants and animals".  This broad definition includes weeds, feral animals, agricultural pests, termites, crop diseases, and vectors of diseases to livestock or crops. The pests and diseases of arable crops in St Helena are summarised here
Integrated pest management (IPM) provides an effective framework for pest management on the Island. IPM is an approach to pest management rather than a set of prescriptive recipes and is based on prevention through integration of cultural, biological and chemical methods. Knowledge is an important element: correct identification of the problem and selection of the appropriate solution and use of chemical treatment only when required. Natural enemies and biocontrol agents are utilised and overuse and misuse of pesticides avoided, resulting in protection of the farmer, pesticide applier, the end-consumer of produce, and the natural environment.
ANRD provides a Pest Control Service and a Biological Control Facility .
There is a close link between the IPM Framework and the Biosecurity Framework in the overall vision of protecting the future of agricultural production and native and endemic species. The Biosecurity Framework aims to prevent the introduction of new pests and the IPM Framework aims to effectively manage the ones already present.
On the 4 December 2014 a Pesticides Policy was approved for the Island and its purpose is to provide the basis for promoting effective and sustainable pest, weed and disease management practices on St Helena through improved pesticides management. It expresses the intention to actively consider a range of methods, including the introduction of new biological control agents and the availability of a comprehensive range of modern pesticides to target key problem species. The integrated pest management (IPM) framework adopts a broad approach to pest management based on prevention through integration of cultural, biological and chemical methods of control.
A copy of the Policy is provided here.
A database of invertebrate pests and biological control agents is available here
ANRD Guidance Notes provide practical advice to farmers in a range of topics: