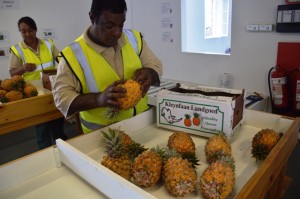 Imported commodities can pose a risk to St Helena in various ways:
They can harbour pests and weeds and carry diseases which directly affect us, our pets and livestock, crops and species endemic to St Helena and found no where else
Species new to the Island imported as ornamental plants, exotic pets, biocontrol agents, new crops or forestry species could themselves become a new weed or pest to the Island
They may not themselves be invasive but could carry weed seeds and disease-causing microbes in encrusted mud and dirt, and harbouring potentially harmful insects, spiders and mites, hidden away in nooks and crannies
Many imports therefore pose a biosecurity risk, and Import Health Standards have been defined in order to minimise this. Fresh produce for human consumption is among the highest risk due to the quantities imported and frequency of arrival, inspections are carried out in accordance with the Manual Of Inspection Procedures,  and MoIP Annex 7.
Below, you can find the Import Health Standards for a range of commodities, together with guidelines for importers. A summary of conditions of import for a range of commodities is given here. If you wish to import a commodity not listed or require further information please contact ANRD for advice on +290 24724.
Plant health:
Animal health: