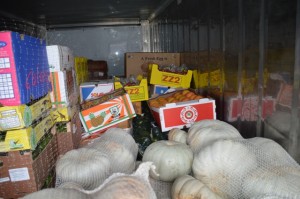 There are three categories of goods: prohibited, controlled and unrestricted.
Prohibited goods pose an unacceptably high biosecurity risk, and include honey, parrots and monkeys, sunflower seeds, earth and soil.
Controlled goods pose some biosecurity risk and their importation requires a licence which sets out the specific import conditions under which they are allowed entry. Applications can be submitted on-line, by fax or post, and links to the relevant application forms are given below. Deadlines for applications to import fresh produce on the RMS St Helena from Cape Town are given in
Closing dates for fresh produce licence applications voy 260-267
Closing dates for animal import licence applications voy 260-267
Import licences
Unrestricted goods generally pose a low biosecurity risk and don't require an import licence. However, they must meet import health standards , where these have been defined.
There are no biosecurity restrictions on the export of plants, animals or goods from St Helena Island. However, there may be restrictions on their entry to another country so please check with the destination country if you are planning on exporting plants, animals or goods.
Export licences